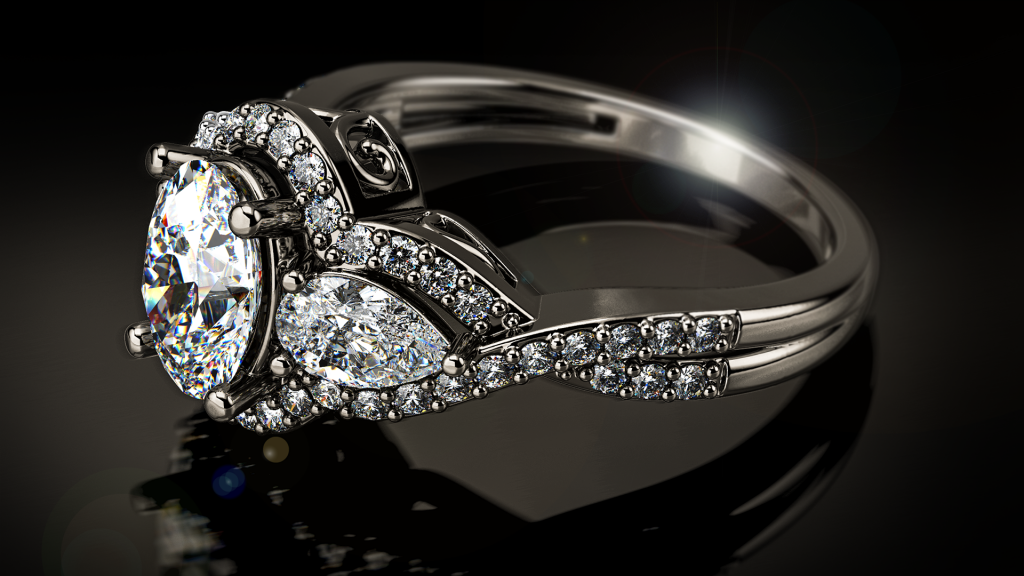 Diamond jewelry design deservedly occupies the first place among the jewels. The jewelry designs with diamond have always been as a sign of uniqueness, elegance and luxury. Women love to use the diamond jewelry for enlightening their beauty and feeling special.
The use of diamond jewelry design is marking the high sense of fashion, elegance, classic style and quality. They attract the attention with spectacular brilliance and whimsical play of color. It is a long time luxury diamond jewelry symbolized greatness, pride and power. No wonder that every woman dreams of having in his personal collection of precious gems.
The best design of diamond jewelry models are being a perfect outfit for both men and women. The sophisticated design with diamond is fascinating and eye-catching. A play of light in the diamond can melt the heart of the most unapproachable woman. You can choose the perfect gift for a wedding, wedding and engagement rings, and more.
Diamond Jewelry Rings
Diamond jewelry ring design is sophisticated and elegant for women and massive and luxurious for the men.
Diamond Jewelry Earrings
From small elegant "studs" to fine diamond earrings with pendants that can be selected in the kit to the ring;
Diamond Jewelry Pendants
The wide assortment of diamond jewelry pendants vary from classical models for each day up to the unusual and elegant models to auspicious occasion.
Exclusive luxury decoration is emphasizing the individuality and distinctive style of its owner. Professional jewelry CAD designers will make decorations for the design of the customer in the most optimal time.
Fine diamond jewelry: Selection Criteria
Choose and buy a stylish product is not as hard as you wearing it correctly. So, if you want to gift emphasized grace and charm, pay attention to the following points.
According to legend, diamonds are the heavenly stars that had fallen to the ground. Therefore, gems are acquiring a special magical attraction in the evening.
As evening stones, diamonds are transformed at this time of day. Fantasy rings with large stones better to wear on the index finger.
Diamond Jewelry for Engagement
Jewelry is considered as one of the most pleasant and luxurious gifts, as well as a wonderful way to express your feelings. Luxury jewelry modelings made of precious metals, decorated with sparkling diamonds have always been indicators of high status of the owner and his good taste.
In the jewelry market you can find shiny diamond jewelry design for engaged couples. The heart shape and oval diamond jewelries are mostly used for engagements. A lot of people go for custom jewelry designs in order to personalize the jewelry model and make every detail of it unique.
Diamond Jewelry Design for Wedding
Till now, people are using diamond jewelry design to make special presents for their beloved relatives, especially it is highly used as a wedding gift and meaning love.
Diamond Jewelry Design for Anniversary
Men understand that the best way to do something nice for the lady of the heart  is simply to buy gold jewelry with diamonds. Precious stones are fabulous money, emphasize the high status of its owner and are inherited. This is a great way to preserve and increase their capital because the cost of stone of ideal purity and transparency is increasing over time.
For elite people diamond jewelry is remaining as one of the most prestige gifts. The use of diamonds in overall look will always differentiate you from the crowd.
Types of diamond jewelry design
One of the most demanded diamond jewelries are white diamonds. Today the colorful diamonds are more preferred by people.
The main rule when choosing exclusive diamond jewelry is considered characteristics such as the color and clarity of the stone. Classics of the genre is gold jewelry design with diamonds in white. The most valuable stones are considered "clean water" stones and gems with a subtle blue tint. Fancy diamonds are green, yellow, pink, red and other colors are rare in nature, so their cost is much higher.
Fine gold jewelries with diamonds, as a rule, are made in one piece and are made of stone and metal with the highest standard. The diamonds in these products are free of defects and inclusions, and the characteristics of transparency and color are equal to unity. Expensive jewelry with diamonds is able to emphasize the character of the woman, her elegance and charm.
However, before choosing your diamond jewelry you have to make sure that it isn't fake as there are plenty of colored jewelries on the market.
Other topics about the modeling process: