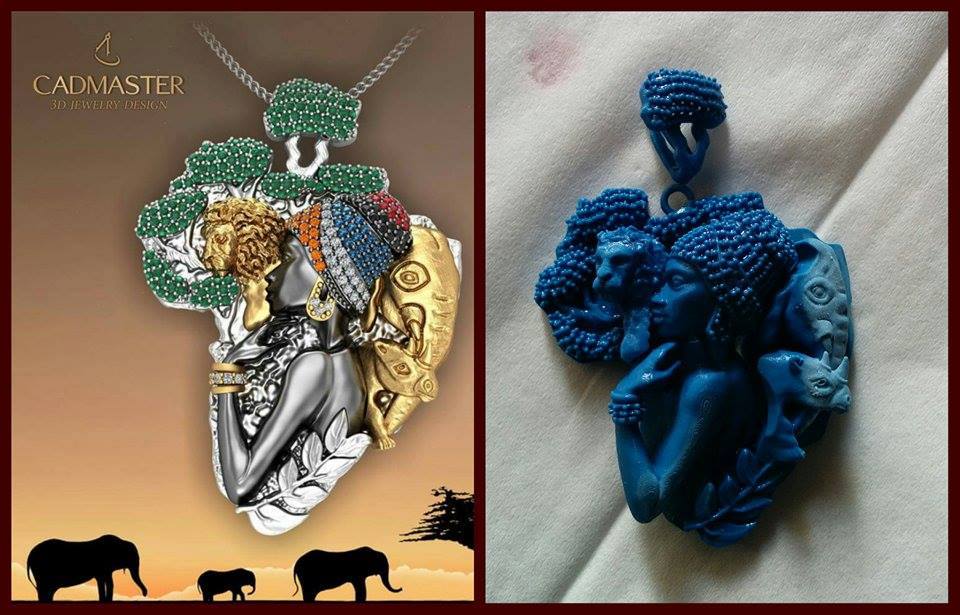 Rapid prototyping of jewelry is the transformation of created 3D CAD models into physical objects enabling to create and show visually any shape of jewelry models. It is an impressive presentation of the model, showing it in a different environment and with a different scale.
Rapid prototyping is a comfortable base before creating your jewelry models to provide high quality and precise features. However, that will cost you high to buy equipment.
Rapid Prototyping of jewelry allows you to transfer to the final layout the color and small element solutions of jewelry sketches. The preliminary approval of 3D modeling will harmonize and make changes to the layout of the future during the jewelry modeling process.
Professional jewelry designers who are specialized in rapid prototyping are making accurate hard copies of created CAD models. These technologies are facilitating the view of final output and making every detail of the jewelry model highly visible from every angle.
Rapid prototyping is used to assure the quality of the production by manufacturing the jewelry models in small amount. That is an excellent way to control and improve quality and small mistakes as well as to create more complex jewelry models.
Generally the models the rapid prototyping is implemented based on STL files.
Advantages of rapid 3D prototyping
Rapid prototyping is giving you possibility of early coordination, transformation and presentation of jewelry models to the customer at an early stage of project approval.
You can boost the efficiency of your production with rapid introduction of changes in the layout before manufacturing begins.
It is also good practice to use the models for demonstrations for several persons by making multiple copies of an object for simultaneously.
Another advantage is that you will save time and money on the development of models, which will be a significant shortening of the project.
The development of rapid prototyping:
In today's market of jewelry is no longer possible to be successful and firmly hold this leadership without the use of modern technology. This not only dramatically save your time and money. It also allow you to create true masterpieces of gold and silver objects that were previously just out of reach for the vast majority of jewelers.
Rapid prototyping has made a real revolution in the field of jewelry production. It allowed you to create original fine jewelry quickly and inexpensively.
Rapid prototyping through 3D printers
3D printers have made a real revolution in the jewelry business. They removed barriers and liberating the imagination of masters.
The main advantages of jewelry 3D printers – ultra-high print accuracy and excellent quality of the generated surface.
In the process of 3D printing, we can produce color prototypes and models based on any 3D model in the shortest possible time. To an accuracy of 0.1 mm it is possible to maintain a low cost of manufacturing.
3d printer – is the specialized equipment that allows, based on 3D model to create a physical object. There are different types of 3d printers, but at the heart of each of them is the principle of creating an object layer by layer. The result is a reduced volume of model with maximum resolution and high quality.
Application of 3D prototyping
3D prototyping is a process which allows seeing and feeling the product before the launch of the future production of expensive jewelry models with several hundred, thousands or millions of copies. 3D Rapid Prototyping allows "start-ups" to exclude engineering and design errors, which are sometimes hard to see on a computer monitor. Modern equipment allows producing prototypes of products from different materials.
Advantages of 3D prototyping lie in the fact that the prototype can be made from virtually any material at all of its properties. The most popular is considered 3D prototyping of ABS (ABS) plastic. Currently, 3D rapid prototyping gained wider application. Prototypes of modern products are used not only to determine the collectability of the final product, elimination of design errors and design. They also are used for the strength, quality and other tests. Materials used for rapid prototyping are: ABS, PS, PC, POM, PA6, PP, PEEK, PA6 + GF, ABS + PC, aluminum, titanium, steel, stainless steel and other plastics and metals.
Other topics about the modeling process: