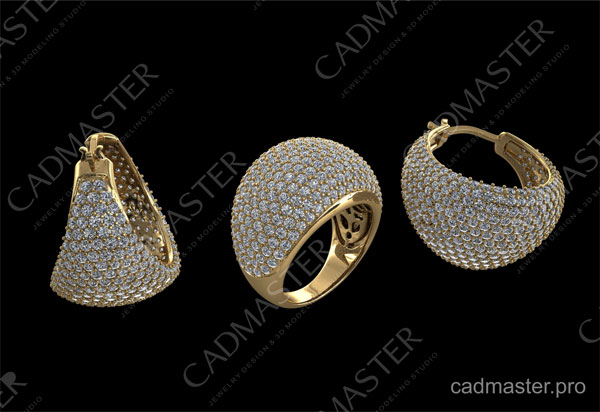 Matrix Gemvision is designed specifically for creating highly realistic 3D models of jewelry. Matrix is one of the favorite CAD tools of jewelry CAD designers that and is well-known with its strength. The software was created in US by professional CAD designers.
Matrix 3D is an assembly of three components: Rhinoceros, V-Ray and, in fact, the Matrix. It includes all the necessary elements for modeling the jewelry. Matrix 3D includes stones library, all known types of facets and forms, which can be changed and supplemented. Computer-aided design in Matrix is transformed into an interactive modeling process, changing imagination of the designer and accelerating the speed.
In comparison with other jewelry modeling tools Matrix has more advanced features and requires more time to learn.
Matrix is ideal for creating custom jewelry design as you are creating the 3D jewelry model from nothing. The final jewelry model is totally unique.
Matrix for Rendering
Matrix is highly used in jewelry rendering. Through this software you can create outstanding photorealistic images with various realistic effects.
Who can use Matrix?
Matrix is ​​today considered a major tool for 3D jewelry designer and noticeably reduces the time for overall modeling process such as the placement of the stones, creating casts for different stones or rings scales. However, only the person who has modeling skills in Rhinoceros will be able to effectively apply the Matrix in his work.
The software is perfect for jewelry CAD designers who are already mastered in Rhino models and want to speed up their work. It is irreplaceable for those who want to quickly create beautiful pictures of their own products using library materials of Matrix.
As it seems, Matrix is not a suitable tool for people who are not engaged in jewelry design. It will be difficult for those ho has just started to create their own jewelry model.
So, to get you started in this program, to understand its structure and principle, you have to have some CAD designing skills.
Capabilities of Matrix
With nearly 10 years of experience, its possibilities are extensive. Matrix is a great program and it has a lot of features, which are lacking in Rhino, even with all its plug-ins. Most of the advantages of Matrix are not used frequently. Only for the models that require the use of the most unique instruments. Matrix is itself rarely used.
And most importantly, if we talk in general, Matrix significantly expands the capabilities of the standard. If desired, you can even customize the Matrix interface so that it contains all the elements of Rhino interface.
Matrix is 3D design software for creating more creative 3D jewelry, that will be integrated to the moment. Based on Rhino 64-bit, it features the interface of Gemvision. Creativity, competitiveness, productivity, the only limit is that of the mind of the user. Through the tool it has become simple to demonstrate the latest designs to clients. It is ideal to boost your operational cash while reducing inventories.
Advanced Matrix
If you have practiced drawing or computer design (CAD / CAM) Matrix is ​​very intuitive. You can easily design your own 3D jewelry and make your 3D jewelry models realistically rendered with V-Ray in a few clicks. If you have already used the CAD or you know a little Rhinoceros 3D Matrix you will quickly understand the mind and get in basic creations.
Those who are very familiar with Rhinoceros 3D program which is based on Matrix can use advanced features like Smart Matrix Flow, the Transform tools, paving, canals, creating advanced models. They can make videos of your creations and learn how to use T-Splines to achieve organic creations.
 Other topics about the modeling process: