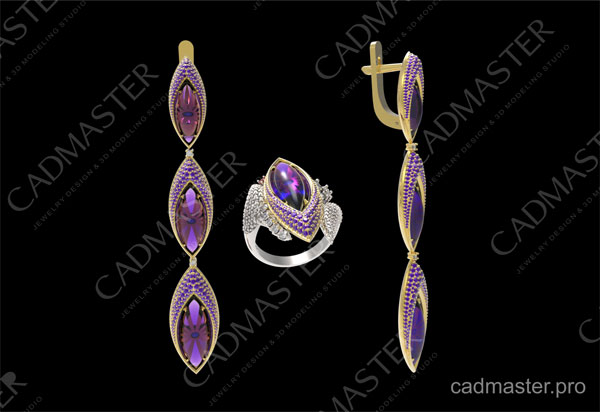 Earrings give amazing integrity and completeness to your image. You will find in the industry appropriate decorations, models for any occasion, from simple yet elegant models for everyday use to luxurious and colorful models for the solemn occasion. A variety of design solutions used precious metals and jewelry inserts allows you to choose earrings for any image.
According to polls, most men believed that the most seductive female jewelry models are earrings.
Tasteful earrings are able to emphasize the attractiveness of facial features and hair of women. They give it personality and elegant appearance. With their help you can successfully beat any outfit, show your sense of style and draw the attention of the opposite sex. Assortment of earrings is so varied that every woman can easily pick up jewelery for every day or for special occasion.
Gold earrings
Earrings are special accessory among gold jewelry. With all their modest size, they are able to completely transform the image of the girl and make it romantic, severe, or, elegant. And if you properly buy gold earrings, you cannot simply complement a dress or a suit. You also have to to emphasize the color of eyes and hair, revealing her true natural beauty.
Whether you are going to an important business meeting and decided to chat with a friend in a cafe. Even the most modest pair of earrings from jewelry designers helps you become the center of attention.
What makes the earrings so special?
Gold earrings with sapphires and white gold with diamonds adding adequately emphasize the blonde hair. Of course, this is not all the secrets of choosing the right pair. If you need advice, do not hesitate to contact jewelry designers.
It is also a good idea to choose the right set, picking up a ring or pendant earrings in the set. Since we are selling only its own production of jewelry. You can always find a specific accessory that will perfectly be combined with the selected pair of earrings.
Earrings are one of the most popular and favorite ornaments. They highlight the elegance of women's ears and face oval, and well-chosen stone is perfectly set off the color of the eyes. The best metal for the production of earrings is considered the gold. It is not only because of the beauty, but also its hygienic properties. Such products almost do not cause allergic reactions.
Variety of earring models
Earrings are one of the most popular female ornaments. Being in close proximity to a person properly fitted ear rings allow you to create the desired image and emphasize the charm of most of his mistress. Often ladies pay attention only to the decorative piece of jewelry when buying earrings. This approach can be risky, especially if we are talking about expensive earrings made of gold and precious stones. It ensures reliable clasp that fastened in the ear earring will not be lost. So the type of lock favorite earrings is equally important criterion for selection than the beauty of the product.
Earrings are one of those pieces of jewelry that will never lose its relevance. Gold earrings for men are emphasizing the bright temperament and confidence of its owner. Among the jewelry you can find earrings made using a variety of artistic metal processing technologies. For example the application of the enamel coating or diamond facets that make the product bright and textured.
Depending on the type and weight, earrings have different fasteners. They naturally are included in the design of the product, and did not aggravate. Reliable locking allows you to not worry about what a jewel can be lost even if you lead an active lifestyle.
Gold earrings in stores are a decent choice as a gift for any holiday. Catalog earrings presented different models of white and red gold: choose a decoration to your taste or eye color.
Gold earrings never go out of fashion regardless of age and style of each woman. This jewelry emphasize the elegance of the everyday evening or luxury image.
Important criteria to be considered before choosing gold earrings are the stone and the castle. Almost all products are inlaid with precious and semiprecious stones. If you want to buy gold earrings to a particular event, the winning products look with large stones. For daily wear it is appropriate to consider options with small pebbles.
Jewelry with colored stones looks especially interesting. When choosing a product, pay attention to what kind of stone is right for you on a horoscope. If the selected stone look under your eye and hair color. Properly selected decorations are the key to a unique personality.
Which earrings suit you?
To choose the right earrings can not only refresh its image, but also visually adjust the shape of the face. Thus, square earrings and long pendants visually lengthen the face. Oval, triangular, round ornaments look beautiful on the face of the square shape. The elongated shape of the face can be made more harmonious by a round, volume models. If you have well-defined cheekbones, then you should buy gold earrings with delicate pendants.
Other topics about the modeling process: