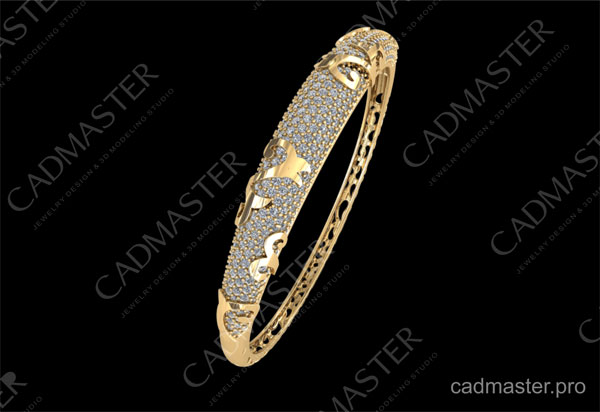 The bracelet, man or woman, is an essential fashion jewelry accessory. These jewelry models are looking perfect as a gift for the birth of a child. Bracelet is a decoration, perfectly suitable to you. Various models of bracelets – tough, chains, silicone, with stones and without, gold and silver, allow to pick up jewelry, which becomes the focus of any image.
Bracelets were used as ornaments and amulets from ancient times. In French, "bracelet" means "wrist" where usually people worn a decoration. Some bracelets are designed to forearm or shoulder, and there are also worn on the leg.
Since ancient times, women have focused on hand decorating. In an effort to make its image more attractive, women began to wear bracelets on their wrists. Initially they were made of wood, leather and other natural materials. With the development of jewelry processing with precious metals bracelets were decorated with complex patterns and precious stones.
Women have long noticed that using the bracelets as jewelry can make wrists slimmer and draw the attention of the opposite sex.
The 3D design of bracelets
3D design of jewelry is now a common operation for the manufacture of custom jewelry. It creates a virtual model of the bracelet to create and edit as many times as possible until the jewelry model that matches your desires.
Indeed, today with many tools and applications provide the ability to make a "draft" and repeatedly change the virtual model using high technology for the production of jewelry
The jeweler first performs creation, on paper, a sketch for the jewelry that will be scanned and converted into a 3D model. This method allows a realistic rendering of the jewelry model. Every detail of the CAD model can be observed. The design of the bracelet can then be carried out in full compliance with the initial sketch. Changes are possible at any stage, even after a few days without the jeweler has to start all over again.
Once the 3D model produced, technicians proceed to the manufacture of a prototype. Using a 3D printer, prototype faithfully reproduces the shapes drawn by the jeweler, in spite of how complex they may be. The model will then be modified with some adjustments if necessary.
With 3D design software, the jewelry Cad designer can give free rein to their imagination and create a variety of jewelry.
As for metals, you have the choice between platinum and gold that comes in yellow, pink or white. To embellish your jewelry you can choose various precious stones and gems.
Bracelet components
They can be carried out from different materials, from leather, stone and wood, then metal. Different times and different countries had their own fashion and its requirements. But no matter how varied fashion and design, this jewelries are still in demand by both female and male audience.
Men's bracelets are more often made of gold, platinum or palladium, sometimes elaborately with inlaid stones. Original silverware models can look fantastic. The main thing is that they are a reflection of the style, lifestyle and character of the owner. Female bracelets are more various, for every occasion and even the mood is usually selected the most appropriate accessory. That is why a woman should have a wide selection of fine and superb, luxurious and gentle, discreet and mind-blowing decorations.
Wearing bracelets also need to be learned. Some require emphasis on you without recognizing the combination with other decorations. Others perfectly choose them with the other products in the same collection. There are those, which are worn by a group of a few products. The correct bracelet highlights the status and allows showing individuality, reflecting the taste and demonstrating human attention to detail. This accessory will help to achieve self-expression, while working in favor of the chosen image.
Jewelry made of gold
Bracelets made of gold is the most desired gift for the ladies. Jewelry can give their owners a unique charm and they can rightly be proud of. Presented jewelry made of gold and silver have a modern design and are made of high grade metals.
Bracelet is an opportunity to remind beautifully and unobtrusively about feelings. Perhaps with the help of this jewelry you will be able to revive the fading relationship. Maybe gold jewelry will help the emergence of new ones.
An elegant wrist bracelet or diamond jewelry will not leave indifferent neither women nor girls.
Jewelry for children will delight your child and will give them the opportunity to feel like a fairy princess.
Specifications of choice of bracelet
Among all jewelries bracelets are considered to be the most romantic and elegant decorations. They can be worn with almost any clothing; the main thing is to choose the right style, design and size. On weekdays, you can complement the outfit with a thin chain bracelet. A decoration is appropriate and in the office, and at a business meeting. For the publication of a wonderful option would be a luxury bracelet with inserts stones – admiring glances are guaranteed.
When choosing a bracelet, pay attention to its length. He must be free to fit the wrist, move it effortlessly. If you buy a piece of jewelry for a gift and afraid miscalculate the size, stop your choice on the model of adjustable length.
The bracelet is one of the traditional decorations to emphasize the feminine elegance and masculine style. Knowing this, designers of jewelry companies have developed a lot of models of actual bracelets. Regularly stocked product range includes trendy decorations, among which you will find a special accessory.
The correctly chosen bracelet will necessarily emphasize the tenderness and beauty of women's hands and for men would be an indicator of style and status.
Chain bracelet made with hand and machine knitting. A varied range of products of this type allows you to select the model that is right for you. More elegant bracelets for women and classic wide model for men.
Trendy bracelet is a perfect gift for fashion girls.
Bracelets are worn on the hand, so they are considered to be some of those ornaments, which are subject to mechanical stress. Therefore, a key consideration when choosing a product is the quality of the inserts fastening. It is important that all the stones produced by the bracelet will be attached by hand.
Other topics about jewelry: