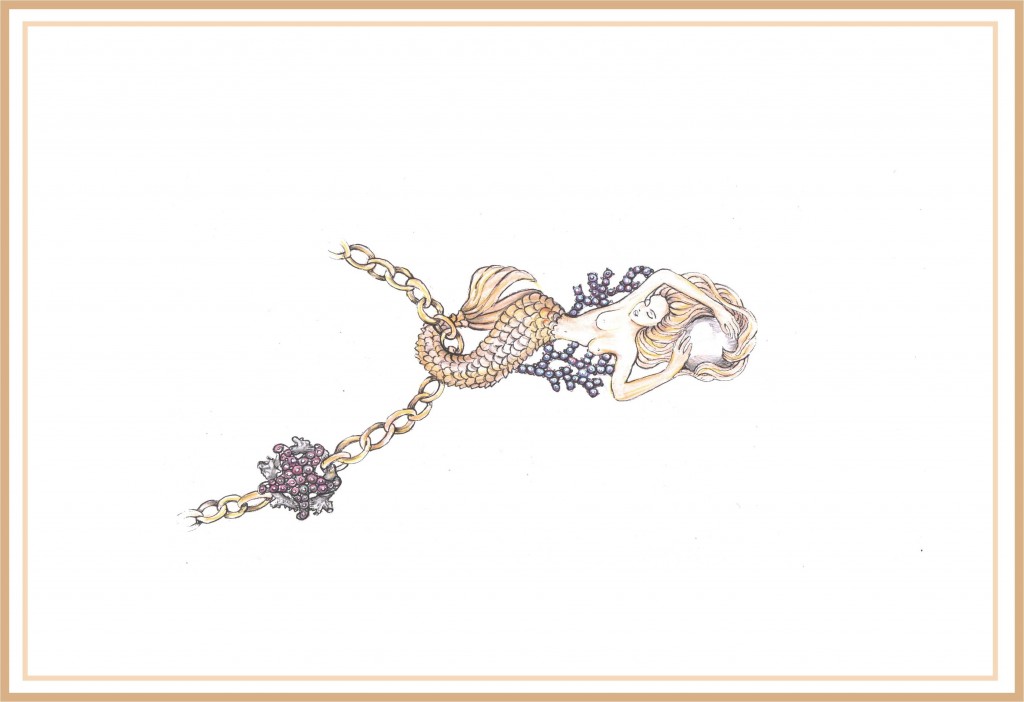 Natural pearls are one of the most unique gemstone jewelries. Nature gifted people with finished decorative product, the surface of which does not require additional treatment. It is feminine, thanks to the colors and brightness of softness. Pearls from ancient times are a favorite material for jewelery.
Stylish jewelry with pearls has always been considered a symbol of refined taste and gentility.
Pearl Properties – description
Pearls have organic origin – they are formed in the shells of some shellfishes. This is their natural protection from irritation caused by foreign bodies getting inside. The structure of the pearl is similar to the structure of the inner surface of the shell.
Types of pearls and colors
Pearls, which are used for designing jewelery, are divided into three types:
Freshwater pearls – it is mined in the rivers of Russia, China, Germany and North America.
Pearls of South Seas are found or cultivated in the coast of Australia, the Philippines, Myanmar, Indonesia, and the islands of Polynesia.
Akoya pearls from the seas around Japan's most valued, as characterized by particularly beautiful shine.
The shape of pearls can be anyone – from a completely wrong (so called baroque pearls) to the spherical. The color of pearls depends on the type of shellfish that created them and the conditions in which it occurred. The most common are white or pale pink samples. The most rare and therefore expensive are blue pearls.
Due to the fact that the technologies are similar to the natural cultivation, grown in this manner is a true pearl, its design characteristics are not inferior natural. In some cases exceed them. And the most common color pearl are white and cream.
Pearls are classified according to the place of origin: it can be both marine and freshwater. And also varies according to the method of origin – natural and cultured. Cultured pearls are 90% of total trade in pearls.
Finding a natural pearl is now possible only through auctions. Skill in the cultivation of pearls reached now such great heights that at times it is impossible to determine the natural and cultivated pearl.
The more glitter and larger is size, the more valuable the pearl. The shape of the pearls is different. Pearl is a pear-shaped, oval, button-shaped. The ideal is considered to be spherical shape. Pearls can also be formless, which is called the "baroque".
Jewelry models with pearls
In jewelry models  with pearls, which are now offered by the jewelery industry are generally used cultured stones. These are grown with the participation of the person. It is estimated by the same criteria as the "wild" – by color, gloss strength, size, shape, and surface cleanliness. Saltwater pearls are much more expensive than the river, as its qualitative characteristics are much higher.
If you choose jewelry, guided by not only external beauty, but also the nature of the product, then a better option than jewelry with pearls, you will not find. Pearl, in spite of the metal in which he was framed was gold or silver, never loses its naturalness and natural activity. Even if these pearls are cultured. Pearl earrings in white gold will refresh your face, make the skin shine and set off the eyes shine. Pearl ring will give aristocratic hands grooming. Pearl necklace dizzy … no, not you, but someone who will look at you, unable to tear his eyes!
Some ornaments can be assessed on a par with diamonds, and even be more expensive. The price of pearls can vary by tens and even hundreds of times. It all depends on the size, shape, brightness and other qualities of the collected thread pearls. The cheapest is considered freshwater pearls or artificially grown.
Pearl looks great in silver, and in any gold jewelry, beautifully combined with diamonds and other precious stones. This is a unique material that can look equally luxurious as the original in an elegant setting, and as a simple string of beads. White pearl is a symbol of purity, sincerity and innocence. It is traditionally used in wedding jewelry, mostly earrings, necklaces and tiaras.
From what to wear pearls
Modest, gorgeous, delicate, bold – the nature of pearls in jewelry can be varied. But it is always expressive and can emphasize the individuality of a young lady and women.
Pearls are universal, but still in the selection of pearl jewelry to clothing. Try to take into account the recommendations of stylists. Here are some of them:
for calm casual clothes suit miniature earrings with pearl-drop and purity with two pearls – the modern trend of jewelry;
business dresses, shirts and pants suit – classic ring with a large pearl necklace and concise;
Pearls have long been considered a symbol of purity and innocence, therefore it is often chosen bride decorations.
Jewelry with pearls can be safely combined with diamonds: jewelery with pearls acquires depth and softness.
Earrings
There is a large range of earrings with pearls among modern jewelry design. The ornaments of silver and gold earrings with pearls and diamonds are a luxurious gift for any occasion.
Pearls for centuries were considered a symbol of power, prosperity and wealth. While today jewelry with pearls fit harmoniously into the everyday image. Such jewels are universal and extremely elegant.
The price of pearls depends on the size and color of the stone.
How to distinguish a fake pearl
Fakes pearls made of glass and plastic are easily distinguished by their appearance. It is enough to hold a finger. A grown stone has rarely a perfectly flat surface, as opposed to the counterfeit.
How to choose pearl earrings as a present
The uniqueness of the stone is that pearls fit everything. You just need to choose the right color. The main rule that should guide: to dark skin suit gold and peach tones, and for fair-skinned women better to buy pearls cool colors – pink, blue. If in doubt, stop for a universal version – white pearl. The stone of this color symbolizes purity, innocence – often brides choose such jewelry for the most important day.
Pearl earrings can look equally elegant to casual attire and approach the image of the evening. These decorations look luxurious on women of all ages, if a stone in the decoration is of the real thing.
The classic combination is white pearl in red gold, fashion earrings for a romantic image with pink pearls, black pearls in white gold and set with diamonds. Choose the decorations to your taste.
Other topics about jewelry: